Halloween is just around the corner and that means one thing…candy. People love candy, especially kids. However, your furry little kid can not have candy. It is simply not good for them and can be quite toxic, especially chocolate. Pets are curious and will often times eat whatever is within immediate reach for them. Since most people will either be giving out candy or receiving it, it is important to think about your pets when it comes to where you have your candy stash hidden. Be sure to store candy in sealed containers, inside of closed pantries or cupboards, or somewhere up high that is out of Fido's reach.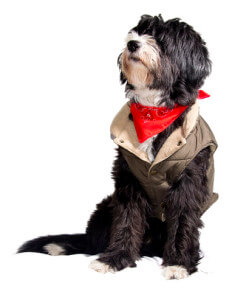 It's always safest to leave your pets at home. However, if you plan to take your pet trick-or-treating with the rest of the family, remember to keep him safe, as well. Bring along water and a bowl to keep your pet hydrated. Walking makes you thirsty, and the same is true for your pet.
Pet costumes are adorable and quite fun. However, costumes should not be too tight around your pet's head, neck, chest, or legs. Also, your pet's costume should not block or inhibit their vision or hamper their ability to breathe. Remember that costumes can be quite warm, so if you see your pet excessively panting, it's a good idea to remove the costume, make sure your pet gets rehydrated, and can take a break before continuing on.
Another good idea is to have your pet on a leash to protect him from cars and other hazards. You never know when the excitement of the night may cause him to want to run. Seeing lots of people and hearing all of the noises of the night just may be sensory overload for even the best behaved animals.
Lastly, on a night that is filled with tricks as well as treats, it's best to bring your pet inside to keep him safe from devilish pranksters who may not have the best of intentions toward animals.
From all of us at Celebration Veterinary Hospital, we wish you, your family, and your pets a safe and Happy Halloween!