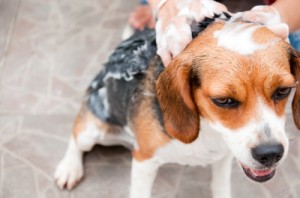 Every pet owner knows their animal needs a good bath every now and then, but how often do our pets really need to be scrubbed? If you're not sure whether you're over bathing your pet here are some simple tips to help you bath your little critter properly. Dogs only need to be bathed once a month, any more than that and you run the risk of drying your fury friend's skin and possibly causing problems. Cats are self grooming animals, but if your feline gets into something smelly or sticky you'll need to give them a bath.
When buying shampoo, make sure that you're buying the right kind for your pet. You can speak to your vet about which kind is best for your animal. To stop the shampoo from irritating your pet you can dilute it with some water before applying it to your pet's fur. You can even use a facecloth or small sponge to help lather up your fury friend. You might even consider putting toys in the bath with your pet to turn bath time into play time.
Before placing your animal in the tub make sure that you've brushed their hair to remove any tangles and tats. If you're bathing a cat, we recommend you cut their nails first to avoid getting badly scratched. Next get all your bathing gear ready so you don't have to leave your pet unattended while you search for the shampoo. Make sure you're wearing the appropriate clothing for bathing your animal to avoid being bitten and scratched. When running the water make sure it's slightly more than lukewarm. Cats can catch pneumonia if the water's too cold, and an animal's skin can scald if the water is too hot. To stop your pet from slipping in the tub you can use rubber mats or place a towel on the bottom of the tub to make their paws comfortable.
If you're going to bath your animal in the bathroom be sure to remove the bath mat so it won't get soaked, in the case of bathing a cat, you might want to consider bathing them in a shower. Large dogs can be done outside in a large plastic pool or tub. Once you've got the water and supplies ready bring you animal into the room and close the door behind you. Now you can place your animal in the water. Make sure you do not get your cat's head wet. Cat's hate that, but it also lessens the possibility that you might accidentally get soap in the cat's eyes. Put the shampoo in the fur and work it into a rich lather.
After you have lathered up your pet rinse them thoroughly to ensure that no shampoo is left in their fur. To dry your pet wrap them in a towel and carry them out of the bathroom where you can begin to blot dry their fur. If you have some help, get someone to put the towels in the dryer so that you have warm towels to dry your pet with. Some pets will dry themselves by shaking the water out of their fur. Cats prefer to be wrapped in towels and let out again after a short time.
After the bath make sure to reward your pet no matter how they behaved. The reward tells the animal that you appreciate them even if bath time isn't fun for everyone.