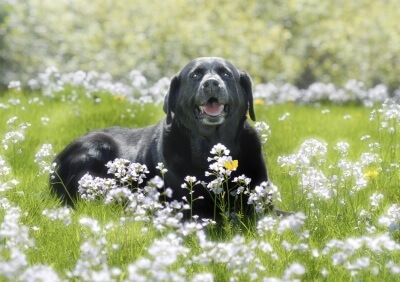 Four out of five dogs have periodontal disease. Yet, we spend far more time and energy focusing on our teeth with toothpastes, specialty toothbrushes, mouthwash, floss and teeth whitening strips. It's easy to often forget about our pet's dental needs, but that cause major problems and even shorten their life span. Pets can have the same problems that we can have if we don't take care of their teeth (periodontal disease, gingivitis, bad breath, bleeding gums, gum disease, mouth tumors/cysts and a shortened life).
Taking care of our pet's teeth is similar to our own dental hygiene. To start out, inspect your dog's gums and teeth to look for any signs of problems (inflammation, bad breath, red gums, bleeding, plaque, broken or missing teeth). You will want to lift up their lips for a good inspection of their teeth and gums once a week. If there are any signs of a problem, take your dog to Celebration Veterinary Hospital (if you are in or near Celebration, Florida) so that our professionals can check your dog.
If there are no signs of problems, it is time to choose a dental regiment that you will keep up with. An easy option is to put a capful of dog dental rinse (don't use your own dental rinse, as it is dangerous for your pet) in a quart of water. When dogs drink from their drinking water, it will help their dental hygiene. You can also give your dog treats that are specifically designed for dental hygiene, which work as an edible toothbrush. Having chew toys are also helpful to remove some plaque as they chew away. It takes time and energy, but it is important to brush your dog's teeth at least 2 – 3 times a week. Don't start out immediately brushing their teeth, but help them get used to the idea and the taste of it. You know your pet and when your pet is comfortable with one step, move to the next. You might have to work on a step for a few weeks to get them comfortable, though. First, start by massaging their lips like you were brushing their teeth to help them adjust to you touching their mouth like this. Then, massage their teeth in the same way in a circular motion. Afterwards, purchase a dog toothpaste and put a bit on their lips to get them used to the taste. Now, it's time to start with a dog toothbrush (don't use a human toothbrush). There are also dog toothbrushes that you can put on your finger to use. When they are used to you touching their teeth, the taste of toothpaste and the toothbrush, it is time to start brushing their teeth. Brush in a circular motion, just like we are taught to do for our teeth. Pay special attention to the part of the tooth that touches their gums, as that is where most plaque builds up.
If you have specific questions about dental care for your pet, please contact Celebration Veterinary Hospital for an individual consultation.
Photo by Victor Habbick "Dog on Grass"