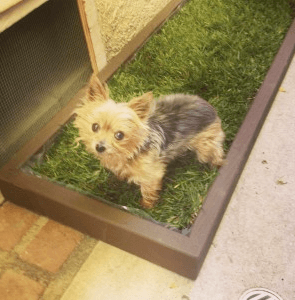 The first time I saw one I wondered about their effectiveness, but then I figured there must be something to it or there wouldn't be a market for this product. In my research I have learned a few things, some products are superior and come highly recommended, but these pads aren't for all dogs.
Nothing beats the great outdoors, that goes for dogs and people! These pads shouldn't become a a solution to not going on walks, your dog needs their exercise, so if you can't provide that for your pooch, you should pay someone to walk the dog for you or place your dog into doggy daycare.
Here are the advised uses for these pads, only use with small breed pets, elderly pets that can't make it outside, or in winter when going outside is difficult or too cold. Having said that there are a few disclaimers about using these products. It might take a few days and accidents before the dog understands what the pee pad is for. With larger breeds, you must recognize that some dogs traditionally lift their legs to pee are probably not going to aim for the pad, meaning you will find pee possibly on your walls and around the sides of the pad.
Some dogs are messy with their business kicking up grass after they have finished peeing outside, so your dog might kick pee off the pad and onto furniture or other surfaces. Not to mention that these pads can cause confusion when training a puppy,causing the puppy to pee on carpeted areas. Our advice is just don't lean too heavily on the pad for training purposes.
Now that number one is out of the way, have you considered what's going to happen with number two? Unlike cats, dogs don't tidily do their business in the same place they pee, some dogs just go where they please, and with this pee pad, they might just start pooping where ever they please in the house because you have introduced peeing in the house.
The above are just considerations to take before running out and trying a pee pad. If you still think you should buy one, do your homework, don't just buy a generic brand form the pet store, find one that comes highly recommended. This pee pad from Doctors Foster and Smith is highly recommended amongst its users. It has an 88% approval rating. But you should find something that's right for your dog, Amazon has an array of peed pads and fake grass to choose from, just be sure to read the reviews before making your final selection.